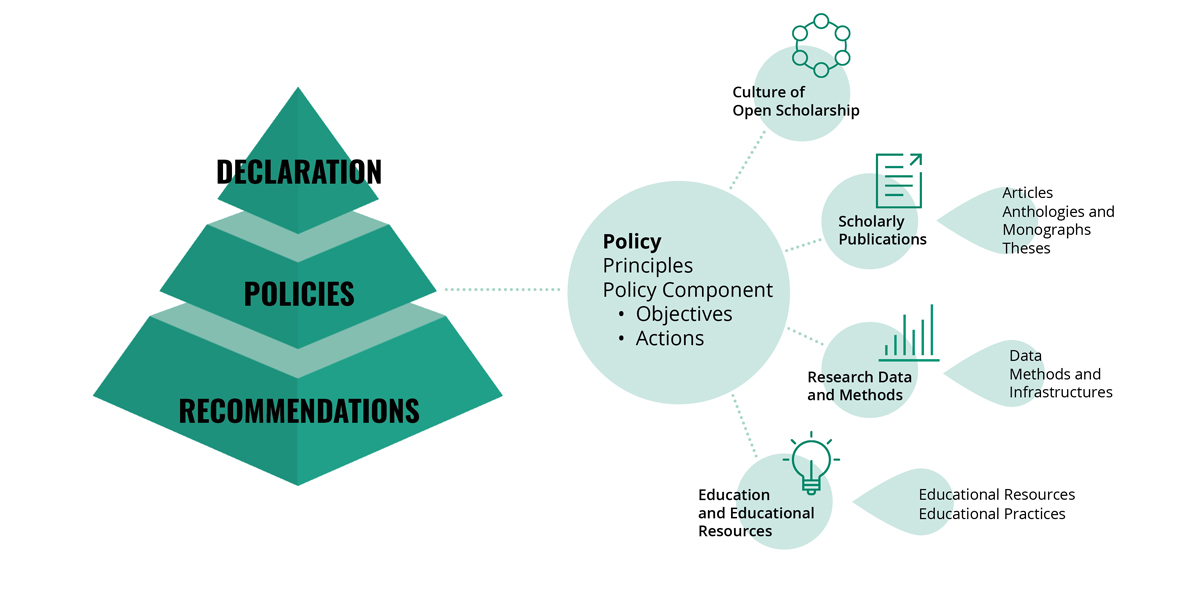 Open scholarship is a challenge and opportunity for the whole research community
Open scholarship has become an internationally significant way to develop scholarship and to increase its effectiveness in society. It enables research results to circulate rapidly amongst researchers, which saves resources, increases the quality of research and leads to a rise of new research questions.
Open scholarship inspires citizens, businesses, and decision-makers. It provides new insights and deepens our understanding of the world around us. It increases opportunities to participate in scientific and scholarly research. This requires extensive availability of publications, data, methods, know-how and support services, produced and required by research.
Open scholarship means also a huge cultural change for the research community. Open scholarship reshapes methods of conducting research and of disseminating its results, changes the way in which these are financed, and leads to an open and cooperative research culture.
The road to open scholarship is paved with decisions to make and with questions to solve. Some of them are clearly domestic, but increasingly, the opportunities and challenges of open research culture are shared by the international research field.
It is time for the whole research community to endorse the values of open scholarship and apply them in scholarly practice. Finland is in good position to tackle new challenges. The journey toward open scholarship was started in 2014-2017 by Open Science and Research project of  the Ministry of Education and Culture, dedicated to promoting accessibility of knowledge and to opening research. The aim of the project was to make scholarship, science and research more reliable, to support the endorsement of open research practices in the research community and to increase the social impact of research and scholarship. Together, we will continue the work of this project.
The Ministry of Education and Culture has transferred the responsibility for communication on open scholarship issues to the Federation of Finnish Learned Societies. The Federation has a long history in promoting open access publishing, in disseminating results of research into wider society and in increasing the influence of research in decision-making and civic activities. The Federation has been involved when the key actors in open scholarship have discussed how to coordinate the joint effort of opening scholarship.