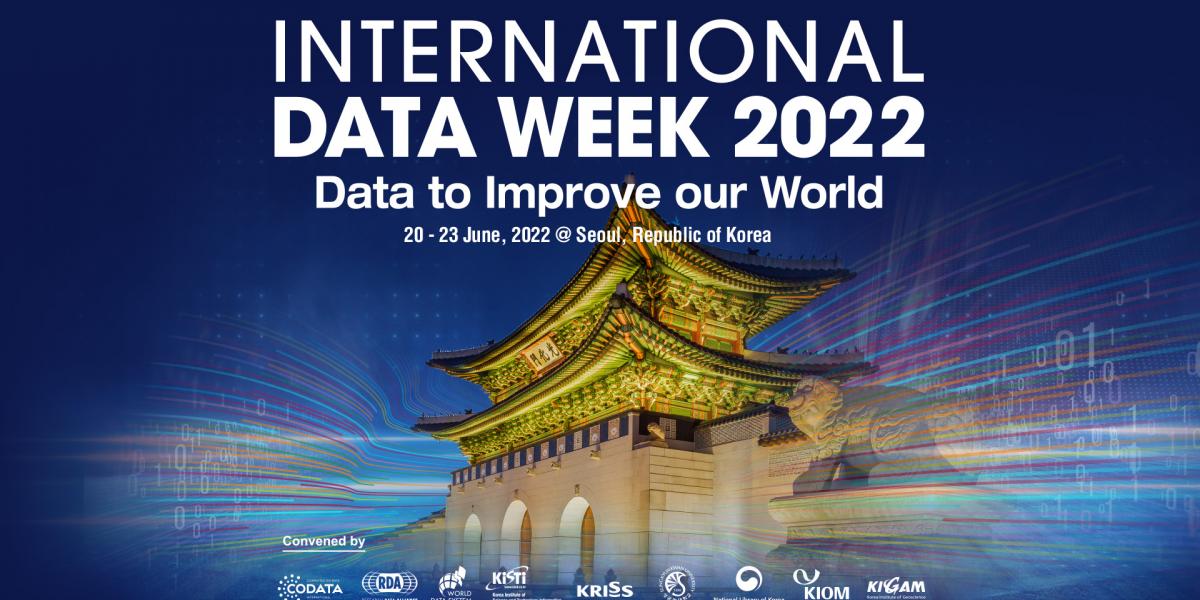 The EOSC Finnish Forum supported the participation of two of its members to the 19th RDA Plenary. Read about their main take-aways in the blogs!
On this page, you will find the blogs written by Saila Huuskonen and Jaana Valjakka who were awarded a free registration to the 19th RDA Plenary that was organised as a part of International Data Week, 20–23 June 2022, Seoul, South Korea.
Huuskonen, Saila, Information Specialist at Tampere University Library
Valjakka, Jaana, Executive Assistant at University of Helsinki
Huuskonen, Saila
Information Specialist, Tampere University Library
19th Research Data Alliance (RDA) Plenary on 20–23 June 2022
I work as an information specialist at Tampere University Library. The focus of my work is fully on data management and includes consultation and training of researchers and students on various themes around research data. The plenary program was very rich and sessions about data management plans, sensitive data and data sharing were perfect matches for my work.
Many sessions, especially the opening plenary, highlighted the value of research data and importance of sharing it. The data was compared with a resource that is like a blood.  The true value of accurate data comes out when it is used, for example, for addressing societal issues, solving global crises, or developing science and technology. Besides the academic world, data may benefit governments, companies, and individual citizens.  What matters is the reliability of the data (which needs to be well-managed), trust between actors and true collaboration.
Data management plans were approached from the viewpoints such as machine actionability, their implementation within an organization and their assessment. It was comforting to hear that the others are struggling with similar things as we have done and still do in Finland. It takes time and effort to promote the adoption of DMPs at organizational and national level and in many cases, resources are limited. We need to move on step by step.  The multiple roles of DMP were raised up in a chat conversation. Creating a DMP was seen as a way of learning and understanding data management issues, but also as a tool to anticipate future service needs.  I quote Jacob Carlson: "Connecting DMPs to services and support would go a long way in making them more useful and hopefully would serve as an incentive to researchers to invest in them".
The privacy issues and data protection are certainly challenging part of our work. The privacy of data subjects is often approached and defined through legislation, such as General Data Protection Regulation (GDPR). The RDA's presentations reminded that understanding privacy is dependent on an individual notion, cultural background and societal perception and can change depending on individual needs, emotional state, and situational factors. This is a good point to keep in mind as our researchers and students come from different cultures, and they also carry out their research in different contexts. Working with personal information requires that we keep in mind ethical aspects because "human information is power over humans".
The session about data searching offered an insight on data findability.  The introduction part pointed out that the key players in data discovery are users (those needing data), data providers (those sharing their data) and data discovery services (those proving support). The next part of the session dived deeper in the data search studies which based on observations, interviews, and surveys of users and the log analysis of repositories.  I picked up two take-away messages. Firstly, the metadata is something that really matters. Especially, keywords, title and data description are important to make data findable. Secondly, the users have different needs and consequently different approaches to data discovery.
RDA community covers the globe. It was fascinating to learn about African Open Science Platform and about LA Referencia which is a network of open access repositories in Latin America. Besides local and national context, we need also understanding about the global scene to serve our clients with the best possible way.
I participated in the RDA 19th plenary virtually (physical location was Korea). However, following the presentations on real time offered a more authentic conference feeling and for sure a sense of a jet lag due to operating in different time zones (Korea-Finland). The practical outcome of the plenary was that I finally registered to RDA community and selected interest groups to join in. Making most of RDA is getting involved and creating connections as it is about sharing experiences and learning together. My new "data story" is about to begin.
Acknowledgement: Thanks to EOSC Finnish Forum for covering the participation fee.
Valjakka, Jaana
Executive Assistant, University of Helsinki
Discovering new dimensions for assistant work
I had the pleasure of attending the 19th RDA Plenary online, endorsed by the EOSC Finnish Forum. I highly value this opportunity. This is the first plenary I attended.
My starting point is quite different from what you would expect from a participant. I currently work as an executive assistant at the University of Helsinki, so I am not a scientist. I can, however, see many applications for data management and open science principles in my work. My job is to ensure that our directors have necessary data available both feasibly and quickly, and so that it can easily be distributed forward and broken down into various entities. I work with our HR, Communications and Administrative Services departments, all of which handle different kinds of data with different principles and legalities, so it's important to have good tools to make the everyday easier and avoid unnecessary or faulty work with outdated practices.
My main focus in attending the event was to expand my knowledge in data management and how I could better apply the principles in my own work. When I looked at the agenda for the first time, I was a bit startled since the topics felt foreign and unfamiliar. I was unsure if I was going to be able to get anything out of the seminar. This was fortunately not the case.
Even though some sessions were more specialized in a certain topic or targeted for a working group, I was able to find multiple sessions that discussed more general topics, such as data management plans (DPM), AI, data visualization and how data management also relates to sustainability work.
I would like to share in particular my takings from the day 2 session on how common principles in data visualization and making data FAIR are key factors in making data more understandable for larger audiences. I noticed that majority of the topics could be applied to assistant work as well, even though the context in the session was science and research. This session shed some light for me on how it is important in my work to ensure that all data I produce and handle have sufficient metadata and descriptive information. It is equally important that everyone in my team works with the same principles in mind.
Data has no limitations. It is the most important tool we work with, and it's present in our everyday life. We obtain data all the time, whether it's a text from our loved ones or an email at work with statistics to process. And it's everyone's gain if we work together towards transparent and common data management principles.
Image: the Research Data Alliance
You might also be interested in